22nd February 2019
Our grassroots cricket project in Rwanda
Posted in Our Growers, Cricket.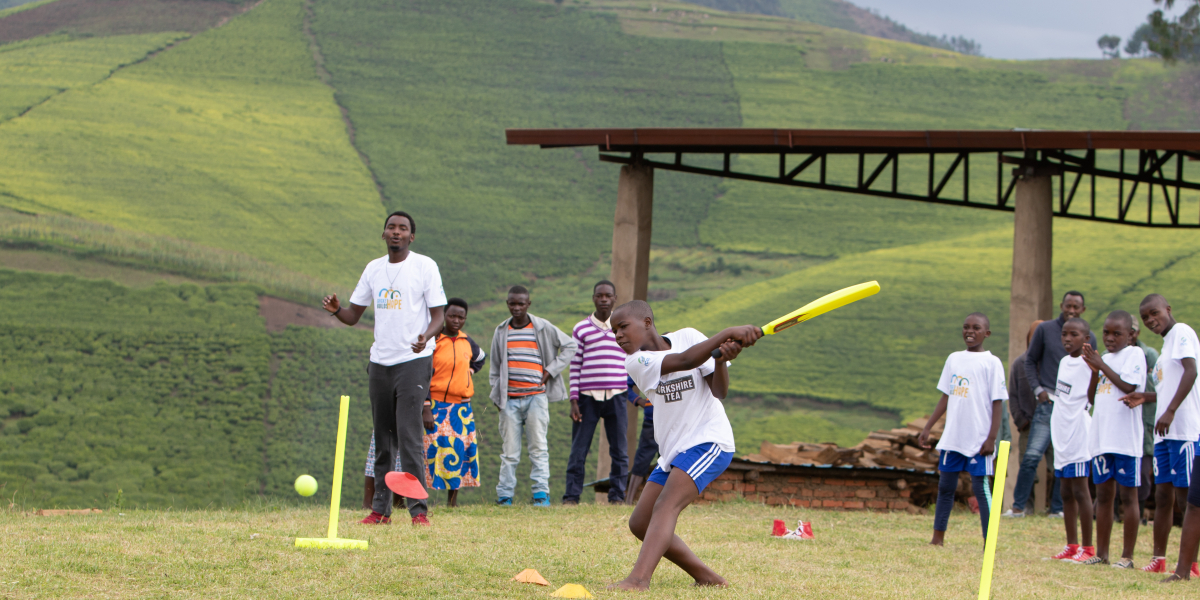 We've been supporting grassroots cricket here in the UK for more than half a decade – and now we're kicking off a big new cricket project in Rwanda (one of the main places we buy tea from).
With the help of charity Cricket Builds Hope and the Rwanda Cricket Association (RCA) we're making cricket coaching available to schools and young people on four Rwandan tea estates over the next three years, starting with Gisovu Tea Estate in the Western Province of Rwanda. We're calling it the 'Tea Cup Coaching Programme'.
The launch was last Saturday, and it was actually a big milestone for cricket in Rwanda. The Western Province was the last of the Rwanda's five provinces to start playing cricket, meaning it's now being played all across the country.
Our Tea Buyer Patrick and Ben from the marketing team headed over to Rwanda for the launch recently. The event involved more than 700 adults and children from local communities gathering outside the Gisovu Tea Factory for the official launch of the programme. The crowds included 100 children from schools who'll be part of the coaching programme, Cricket Builds Hope and the RCA along with managers from other Rwandan tea estates that will be part of the programme in future years.
The day included 'quick cricket' coaching from eight accredited coaches and friends of Yorkshire Tea including Rwandan Women's Cricket Captain Mary Maina, World Record Breaker Cathia Uwamahoro and winner of Top Coach at the recent RCA National Cricket Awards, Landry Rurangwa.
After coaching, a friendly cricket match took place followed by a performance from a local band and, of course, a traditional Yorkshire Tea break. Cricket was played on the recreational area outside the Gisovu Tea Factory, where a cricket pitch had been newly constructed out of clay soil.
So what's next? Each of the schools taking part in the programme will be awarded cricket equipment and now be visited at least once per week by RCA's Development Officer, Charles, who'll run coaching sessions with children (9-18 year-olds), teachers and young estate staff (18-25 year-olds). At least three teachers and three estate staff will also be trained over the year and awarded formal coaching certificates to enable coaching to continue for months and years to come.
A huge thank you to our friends at Cricket Builds Hope, RCA and Gisovu for making the Launch Event a massive success. We're really pleased the programme has now officially kicked off!